On my recent visit to the Botanic Gardens in Potsdam, Germany I had the rare opportunity to witness the flowering of the Queen of the Night Cactus. The insignificant looking cactus produces huge flowers 15 cm in diameter that open once a year during the night only and fade at dusk. Its fragrance reminds of the irresistible combination of chocolate and vanilla.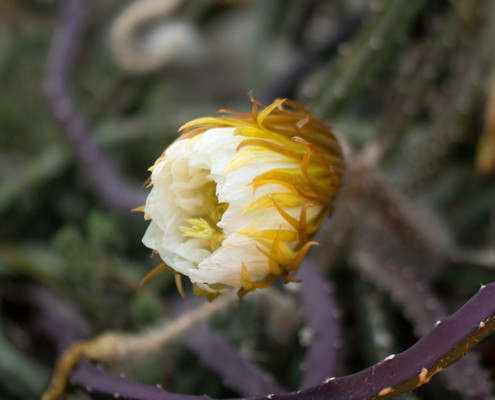 The Shoshone Indians of the Death Valley use the root and stems as a cardiac stimulant, helpful for tachycardia arrhythmia, vague chest pain and shortness of breath that may be associated with overuse of tobacco and caffeine. They call the plant 'pain in the heart'.
The Desert Alchemy flower essence range offers a Queen of the Night flower essence that supports feminine qualities of receptivity, subtlety, darkness, intuition, psychic vision, and deep feeling. It helps those who have difficulty connecting with their intuition or those who ignore / not honour what is instinctively felt to be right. It assists with being connected to all life through our inner mysteries.
© 2013. Annette Zerrenthin