Writing this blog over the past year my focus has shifted more and more towards highlighting the plants in their natural environments. I've come to understand that our lives depend entirely on plants, without them we would not be here … food, shelter, oxygen, healing. Yet there is a disconnection from the natural environment for those of us who live in cities following a hectic lifestyle. We forget that a day out in nature can so easily bring us back to ourselves and connect us to our bodies and souls feeling the spark why we are here, a joie de vivre.
Today my focus is on Banksia's and the four flower essences in the Australian Bush Flower Essences and Living Essences of Australia ranges.
Banksia's are iconic to the Australian landscape. They were named after English botanist Sir Joseph Banks who first described them when landing on the Endeavour at Botany Bay as part of Captain Cooks exploration in 1770. Since their first description by the European explorer 173 species of shrubs and small trees have been classified as banksias. They are widely distributed throughout the Australian continent and Tasmania, but don't grow in the deserts. The majority of Banksia's can be found in south-western Australia.
The characteristic flower spikes, which turn into woody fruits, are rich in nectar and are a food source for native birds, bats, insects, possums and sugar gliders.
Here are some examples of the diverse genus I photographed at Sydney Harbour National Park, in Western Australia and the Royal Botanic Gardens in Melbourne. The diversity of our plant world is so incridible, have a look for example at the difference in leaves in these photos.
Heath Banksia, Banksia ericifolia at Sydney Harbour National Park.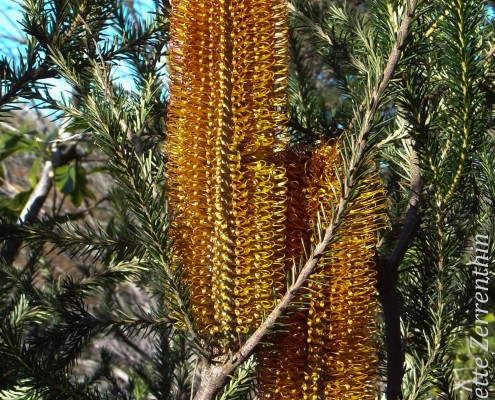 Coast Banksia, Banksia integrifolia at the Royal Botanic Gardens Melbourne (also image at top)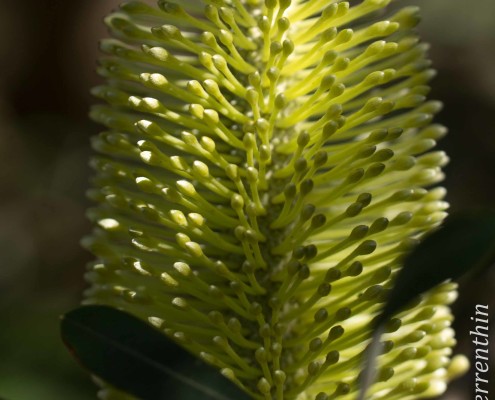 The spherical woody fruit cone of Round Fruited Banksia, Banksia sphaerocarpa at Porongurup National Park, WA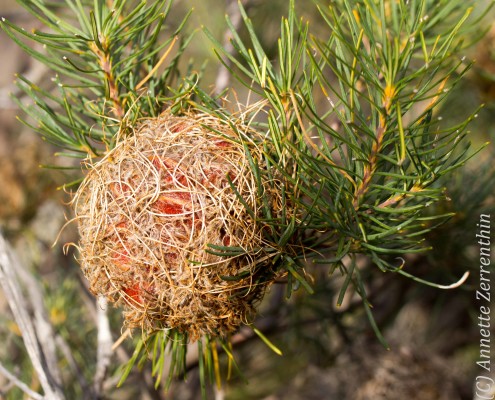 The magnificent Giant Banksia, Banksia grandis at Porongurup NP in WA
Yellow and burgundy coloured Cut-leaf Banksia's, Banksia praemorsa, at Stirling Range NP, WA.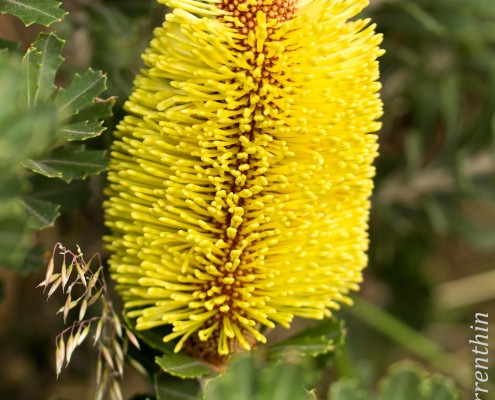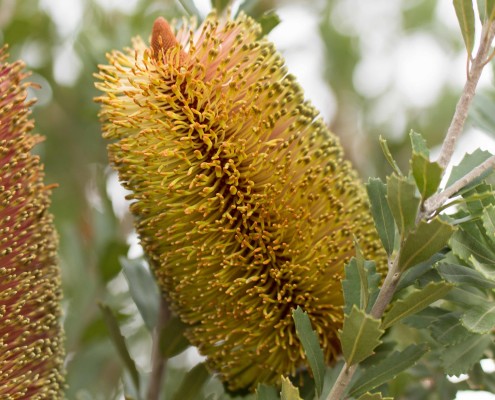 … and last but not least Ashby's Banksia, Banksia ashbyi at Kings Park in Perth, WA.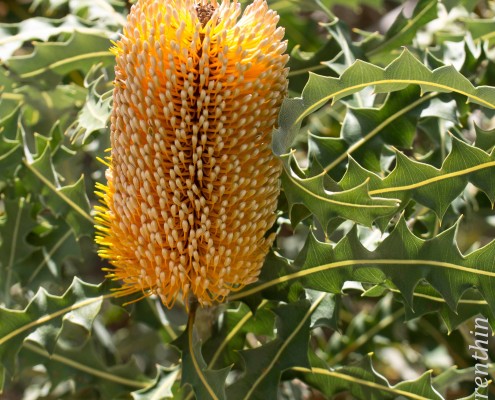 Menzies Banksia Banksia menziesii from the Living Essences of Australia range supports a person in letting go of emotional pain, overcoming fear and pessimism that has come from negative experience/s anchored in the cellular memory of the body. It is 'for the person caught up in their pain and not able to see beyond it. For those trying to transcend pain'. The harmonising qualities of the essence are freedom, joy, courage, regeneration. The essence can also be used topically to relief physical pain in areas on the muscles around the spine, neck and joints.
Woolly Banksia Banksia hookeriana (also know under the common names of Hooker's or Acorn Banksia) supports us in manifesting our dreams by shifting into the energy of success when we have become defeatist, disheartened, unsure and being stuck on our path. It is used for those that see only more problems and hardship on the way ahead. This essence helps to succeed by taking one step at a time rather than being overwhelmed by the chatter in our minds of the magnitude of the task ahead. It 'gives the inspiration, strength and vitality to get on top of things and conquer, no matter how weary one feels'.
Enthusiasm is the yeast that makes your hopes shine to the stars. Enthusiasm is the sparkle in your eyes, the swing in your gait. The grip of your hand, the irresistible surge of will and energy to execute your ideas. Henry Ford 
Of the Australian Bush Flower Essences Old Man Banksia Banksia serrata is for those with a solid, plethoric, heavy disposition who may often present with low energy. These people tend to have earthly natures and operate more from their bodies and emotions than from their minds. They may be disheartened by setbacks in life, weary and frustrated.
While Old Man Banksia flower essence is for those with a particular constitution Swamp Banksia Banksia robur assists those in situations with temporary tiredness, frustrations or setbacks. These people are normally energetic, dynamic and enthusiastic but due to illness, disappointment or burnout the out of balance symptoms presented are low energy, being disheartened, weary and frustrated.
Both essences bring back spark, energy and enthusiasm into a person's life, an enjoyment of and interest in life.
References:
I. White. Australian Bush Flower Essences. Bantam Books, 1991.
I. White. Australian Bush Flower Healing. Bantam Books, 1999.
V. & K. Barnao. Australian Flower Essences for the 21st Century. Australian Flower Essence Academy, 1997.
G. Bryant. Australian Native Plants. Random House, 2005.