Have you ever considered the sheer abundance and diversity of flowers? Internet sources tell me that flowering plants make up about 90% of the plant kingdom with more than 250,000 species being documented and many still being unidentified.
"Flowers have spoken to me more than I can tell in written words.  They are the hieroglyphics of angels, loved by all men for the beauty of their character, though few can decipher even fragments of their meaning."  ~Lydia M. Child
The Orchidaceae family is one of the largest groups of flowering plants in the world with around 800 genera and 30,000 species found on all continents except Antarctica. In Australia, there are about 100 genera and more than 1,200 species of orchids. Orchids get their name from the Ancient Greek orchis , meaning 'testicle', derived from the appearance of the paired root tubers of the plant.
Commonly, when we think of orchids it is those with large blooms we can buy at florists or see in the hothouses of botanic gardens.
Phalaenopsis aphrodite from my local market in Melbourne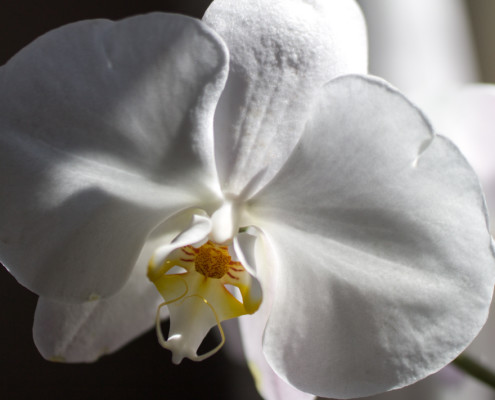 Yet, we may pass them when bush walking and not notice them, perhaps because we expect to see large beautiful flowers calling for our attention.
Australian native orchids are diverse and stunning but have much smaller flowers, they often blend well into their environment making them hard to see when we don't know what to look out for.
Blue Lady Orchid (Thelymitra crinita) – Porongurup National Park, WA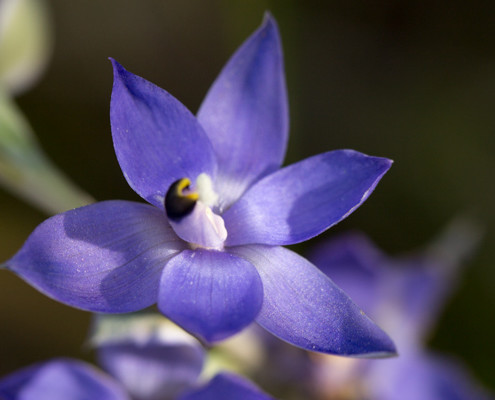 Expecting them to be much larger and prominent I saw native orchids for the first time when visiting the Porongurup National Park in Western Australia in October last year and with my eyes being attuned to their fragility I found them growing beside a path on a walk surrounding Hanging Rock in Victoria last December.
Hyacinth Orchid (Dipodium punctuatum) – Hanging Rock, Victoria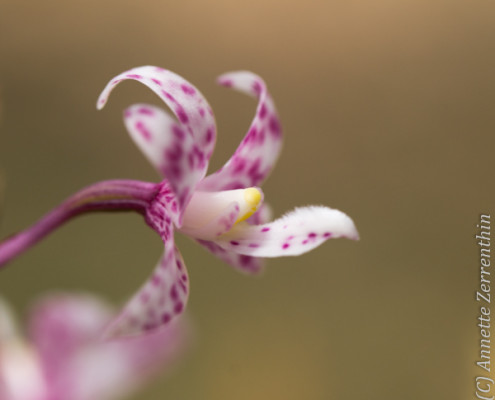 Some of the Australian native orchids have been made into flower essences by Living Essences of Australia and the Australian Bush Flower Essences.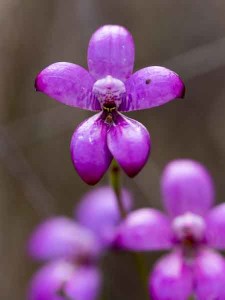 The Living Essences of Australia range has 13 essences that are made from native orchids. Purple Enamel Orchid (Elynthranthera brunonis) flower essence for example supports us in balancing our energies. It is indicated for those, who feel they are not doing enough, having a tendency to overwork. Their lifestyle fluctuates between a high energy output and then collapsing having expended too much energy.  The harmonising qualities for this essence are consistence, confidence, regulating Qi, stamina and achievement.
Cowslip Orchid (Calandenia flavia) is supporting a person that craves acknowledgement and when not recognised by others, has a tendency to respond negatively. The essence is indicated when the mind of the person is drawn too quickly away from their body onto their surroundings, they are too externally concentrated and overly alert. The harmonising qualities of the essence are humility, confidence, being self-assured and having inner satisfaction.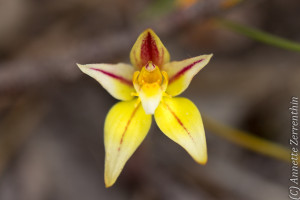 Yellow Cowslip Orchid essence is part of the Australian Bush Flower Essence range and is  indicated for a person with an overactive mind and as a result this person may be blocked off from their feelings. Out of balance there is a tendency to be excessively critical and judgemental, aloof and withdrawn. ABFE indicates these positive qualities for the essence: humanitarian concern, impartial – can step back from emotions, constructive and ability to arbitrate. This essence is included in the Dynamis combination essence supporting a renewal of enthusiasm and joy for life.
Living Tree Orchid Essences is a range entirely dedicated to orchids grown in greenhouses and  made in the UK by Don Dennis and Heather Decam.
© 2013. Annette Zerrenthin