A violet in the youth of primy nature,
Forward, not permanent, sweet, not lasting,
The perfume and suppliance of a minute.
Shakespeare in  'Hamlet'
Violets are in bloom right now in the cool Melbourne mid-winter. My discovery of their return into flower the other day was not by seeing them but smelling their fragrance when walking past … then the remembering … ahh, the violets!! … and my trying to slow down my step to indulge in their sweet scent.
Violets Viola odorata are native to Europe and Asia but are now cultivated across the world.  Who wouldn't grow a violet for  their wonderful scent,  health benefits and culinary use?
In the beautifully illustrated book 'wild kochen' Anette Eckmann uses her violets in recipes for making  tea, a vinaigrette, candied violet flowers or liqueur. The web shares many recipes for candied violets and violet syrup to flavour ice creams, cakes or sparkling wine.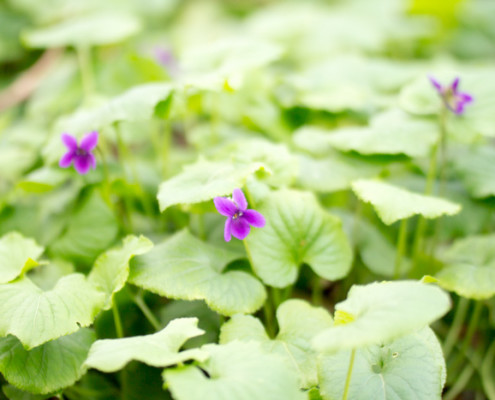 Violets were mentioned  as an important medicinal plant as far back in history as the first century AD. The whole plant – leaves, flowers and roots are used in herbal healing for their constituents of saponins, salicylic acid glycosides, essential oils, mucilage and alkaloids (odoratin, violin).
Treatments include bronchitis, lung diseases, coughs, influenza, skin diseases (ulcers, rashes, pimples) wounds, rheumatic complaints. The soothing mucilage of violet leaves, flowers and roots acts as a decongestant in the lungs and throat and opens blocked sinuses. It is helpful for hay fever, sneezing and itchy eyes.
In homeopathy viola odorata is used as a remedy for earache, eye diseases and whooping cough.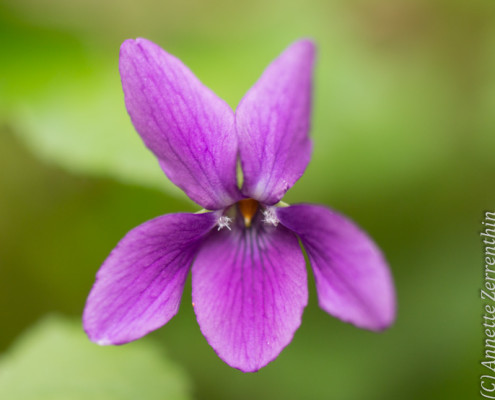 The expensive essential oil made either from the flowers or leaves of violets is cleansing to the kidneys and decongestive to the lower body, speak it has laxative properties. It is beneficial for the respiratory tract, soothes inflammation of the throat and has been found to have painkilling properties. It balances the emotions, helps with anxiety and nervous exhaustion.
So many people are shut up tight inside themselves like boxes, yet they would open up, unfolding quite wonderfully, if only you were interested in them. ~ Sylvia Plath
This quote by Sylvia Plath describes so well the person who could benefit from the harmonising qualities of Violet flower essence (Flower Essence Society). Violet is for the person with profound shyness, being aloof, reserved and with a fear of being submerged in groups. It brings about harmonising qualities of having a highly perceptive sensibility, an elevated spiritual perspective and the ability to share with others while remaining true to self.
Just as the hidden violets come out to shine with their powerful fragrance when warmed by sunshine, so may the flower essence help a reserved person to feel comfortable to open up in the presence of others and shine.
References:
 P. Kaminski, R. Katz. Flower Essence Repertory. Flower Essence Society, Nevada City, 1992.
 S. Chiazzari. Colour Scents. Saffron Walden, Essex, 1998.
 W. Sellar. The Directory of Essential Oils. Vermillion, London, 2001.
 M. Roberts. Tea - Recipes for Health, Wellbeing and Taste. New Holland, Chatswood, 2011.
 A. Eckmann. wild kochen - Aus der gruenen Speisekammer der Natur. Christian, Muenchen, 2011.
 Dr. U. Kuenkele, T.R. Lohmeyer. Herbs For Healthy Living. Parragon, Bath, 2007.