In Australia, you can find Kangaroo Paws (Anigozanthos) growing in many native gardens, parks and are offered as cut flowers in florists. Their natural habitat is the south-western region of Western Australia where you can see most of the 7 genera and 85 species in their natural habitat.
The first European to describe the flower was the French botanist Jacques-Julian Houton de Labillardiere, who as part of a scientific expedition, landed near Esperance WA in 1792. It was de Labillardiere who coined the species name  Anigozanthos meaning 'irregular flower'. The common name Kangaroo Paw stems from the appearance of the unopened flower clusters resembling the forepaw of a kangaroo.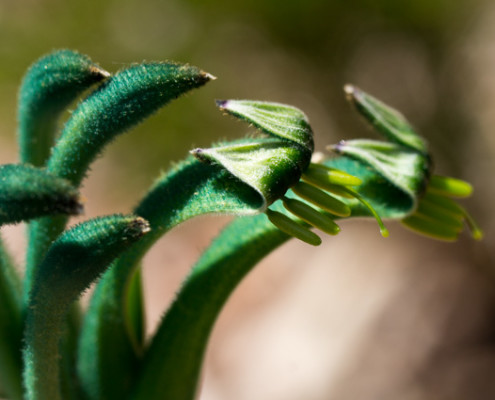 The most known of this family is the striking Red and Green Kangaroo Paw (Anigozanthos manglesii) proclaimed as the floral emblem of Western Australia in 1960.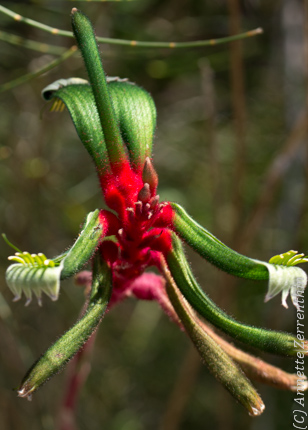 Kangaroo Paw flower essences made from Red and Green Kangaroo Paw (Anigozanthos manglesii) are available through the Australian Bush Flower Essence as well as the Living Essences of Australia ranges.
This essence supports relationships either for people who are socially awkward or family members who have grown distant.  The essence is indicated for the socially inept person who has difficulty relating to others, either because of being a bit naive, narrow minded or feeling out of place in social circumstances. It's for the person who always knows the right thing to say after the situation has passed.
Living Essences of Australia describes the 'Healing Pathway to the Soul' for this essence as follows:
'The mind races towards its personal goals and desires, expecting support and devaluing those people who don't support them directly. This devalued person can be one who simply wants to share Love with us. Just to BE is an art in life where the mind learns to sublimate its endless external plans and curiosities to the real experiences of the internal world. One of these internal delicacies that can easily be missed is the timeless communion with another Soul and all the sweetness of the combining of two hearts.'
The harmonising qualities of this essence are: kindness, sensitivity, enjoyment of people, closeness, being relaxed, in touch and patient.
A relationship is like a garden. If it is to thrive it must be watered regularly. Special care must be given, taking into account the seasons as well as any unpredictable weather. New seeds must be sown and weeds must be pulled …
~ John Gray
Living Essences of Australia also makes an essence from Purple and Red Kangaroo Paw. This essence is also indicated for relationship problems with focus on situations when we feel hung up communicating with a particular person … having to blame, argue, criticise and or react to the person. Taking is essence assists in shifting the problem into the spotlight and away from the other person. 'Being in touch with the other person and not focusing on winning a fight, or having their own way, many new possibilities arise to renew the relationship.'
The harmonising qualities of Purple and Red Kangaroo Paw are: openness, sensitivity, understanding and vulnerability.
© 2013. Annette Zerrenthin
References:
Ian White: Australian Bush Flower Essences. Bantam Books, 1991.
Vasudeva & Kadambii Barnao. Australian Flower Essences for the 21st Century. Australasian Flower Essence Academy, 1997.
Geoff Bryant. Australian Native Plants. Random House Australia, 1995.
Andy Zubko. Treasury of Spiritual Wisdom. Motilal Banarsidass Publishers,2004.