The Abbortsford Convent is perfect for spending a leisurely Sunday afternoon with friends sharing delicious Japanese treats at Kappaya, afternoon tea or a vegetarian meal at Lentil As Anything. At the banks of the Yarra and with the Collingwood Children's Farm next door it feels just like being in the country, yet Abbotsford is a 4km hop, skip and jump from the Melbourne CBD.
On a walk through the convent's garden, the sunshine magnified the bright orange and yellow coloured Nasturtium flowers growing in one of the garden beds.
Nasturtiums (Tropaeolum majus) have their origins in South America and were introduced to Europe around 1684 by the Dutch statesman and botanist van Beverning.  Nasturtiums made their way into monastery gardens for their medicinal properties as they had been found useful against scurvy. They contain high levels of vitamin C and a natural antibiotic to reduce throat infections. The leaves are still used in South America for treatment of bladder and kidney ailments as well as colds, coughs, flu, sore throats and bronchitis.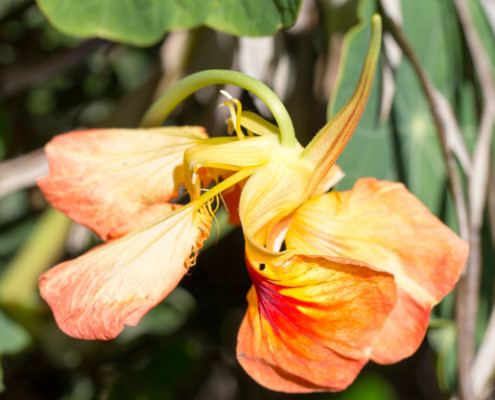 As a flower essence Nasturtiums support glowing vitality and radiant warmth when the life force is depleted by over study and over thinking. The Flower Essence Society writes on their essence: 'This remedy is very helpful for students, those whose career demands strong intellectual activity, or for any phase of life where the intellect predominates. If these head forces are allowed to prevail, the soul life will become cold and disconnected from its physical body and from the larger physical body of the Earth. This imbalance predisposes the individual to many forms of physical illness, from colds and congestion in the head, to immune dysfunction and general hardening of the body.'
In her book Purple Citrus & Sweet Perfume Silvena Rowe highlights cooking with flower petals such as roses and hibiscus and uses nasturtium flowers in a sauce over asparagus and an aioli to accompany fish or vegetable dishes. Their sweet, peppery taste adds a delicious flavour to salads or to this pesto recipe. You can pickle the half green seeds and use to substitute capers.
© 2013. Annette Zerrenthin